HKSI Institute Awards Top Accolade to Professor Alexa Lam
Hong Kong, 7 December 2016 – The Hong Kong Securities and Investment Institute (HKSI Institute) conferred its Honorary Fellowship to Professor Alexa Lam, JP, at its annual Autumn Dinner on 20 October, with Professor K C Chan, GBS, JP, Secretary for Financial Services and the Treasury as the Guest of Honor.  The HKSI Institute Honorary Fellowship is the top accolade awarded to individuals who have made distinguished contributions to the advancement of the financial industry in Hong Kong.
At the special occasion, four esteemed HKSI Institute members were also inducted as Senior Fellows in recognition of their significant contributions to the industry and the Institute. They are:
Mr Joseph Chan, Managing Director of Global Markets Division, Credit Agricole Corporate and Investment Bank

Ms Yvonne Hsin, Director of Leading Advantage Investment Limited

Mr Stuart Leckie, Chairman of Stirling Finance Limited

Mr Louis Mak, Founder and Chief Executive Officer of I-Access Group
In his Keynote Address, Professor K C Chan congratulated the newly inducted Honorary Fellow and Senior Fellows, and outlined the key achievements, as well as the market challenges, of the financial services industry.  The macro outlook for the world is affected by low growth and worry about whether the low interest rate policy is still effective.  The cautious attitude towards investments has a dampening effect on financial transactions, impacting the global business environment.
Professor Chan emphasized that we should do our best to build on our strength, to work harder to make our market stronger. On the equity market, we should increase the strength of our listing platform and a trading centre for equity products.  With vision comes manpower need for market development. Professor Chan specially thanked the HKSI Institute for the launching of the Pilot Programme to Enhance Talent Training for the Asset and Wealth Management Sector, which will help attracting new blood to expand the talent pool, and enhance the professional competency in the asset and wealth management sector.
At the dinner, Professor Chan also presented souvenirs to the sponsors of the HKSI Institute's Scholarship Programme, a scheme launched in 2004 to nurture young talents, which was developed based on a seed idea from him during his tenure as the Institute's Board Director.
(Full speech of Professor K Chan can be found in http://www.info.gov.hk/gia/general/201610/20/P2016102000733p.htm)
Professor Alexa Lam was inducted as the Institute's 12th Honorary Fellow at the HKSI Institute's Annual Dinner.  Professor Lam has played a significant role in formulating local and international regulatory initiatives.  "Alexa has had a remarkable impact on our industry and we are thrilled to honour her with our highest accolade by inducting her as an Honorary Fellow of the Institute," said by Mr John Maguire, Chairman of the HKSI Institute.  "Alexa is an inspirational leader and is now motivating and being the moral compass to the next generation of people poised to enter our industry by teaching at the University of Hong Kong." Mr Maguire added.
Professor Lam was the Deputy Chief Executive Officer of the Securities and Futures Commission (SFC) and Executive Director, Investment Products, International & China.  She covered the regulation of the Hong Kong retail investment products markets, SFC's policies on international engagements, and market development in Mainland China and Hong Kong.  She was one of the principal architects of the development of Hong Kong's offshore RMB business and RMB investment products.
"Throughout my career at theOn the equity market SFC, the Institute was a crucial partner.  They gave me a neutral platform to build industry support for securities market law reform after the Asian Financial Crisis.  The Securities and Futures Ordinance ushered in a new licensing regime.  The Institute spared no effort in creating a quality licensing exam.  We introduced continuous professional training requirements to improve standards.  The Institute was the first one to come through with comprehensive training courses to help the industry meet global standards." Professor Lam said.
(Full speech of Professor Alexa Lam can be found in http://www.hksi.org/hksi/userupload/hksi-acceptance-speech-2016_final-1.pdf)
"The HKSI Institute is dedicated to groom future leaders for the industry. In March 2016, The HKSI Institute launched the Young Professionals Club (YPC) as a platform to provide Members aged 40 or below with unparalleled opportunities to further develop their skills and knowledge base, prepare them for job selection and career progression, share ideas with like-minded individuals and build their professional networks among their peers, as well as with senior Members of the HKSI Institute."  Miss Ruth Kung, Chief Executive of HKSI Institute added.
For more information on the HKSI Institute's outreach programmes, please visit www.hksi.org .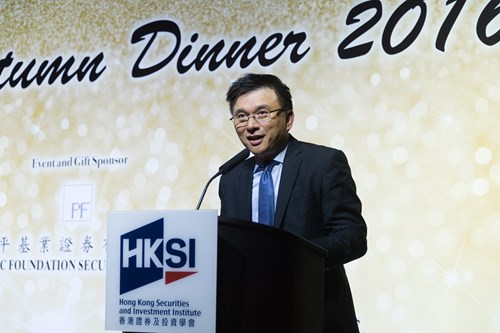 Professor Chan delivered the keynote address at the HKSI Institute's Autumn Dinner.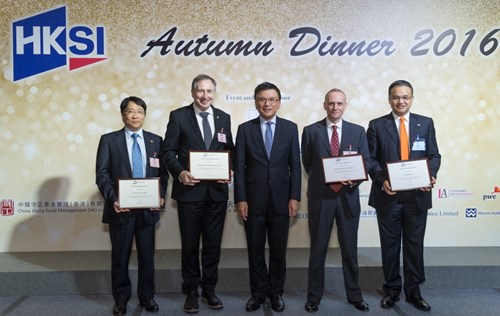 Recognition of Sponsors of Scholarship Programme.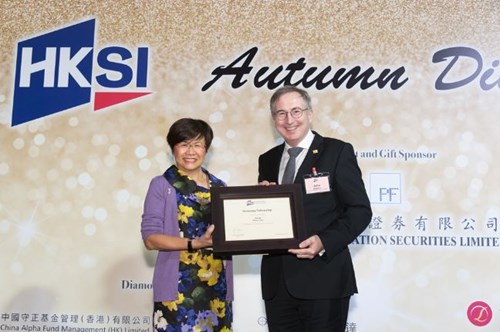 Professor Alexa Lam accepted the HKSI Institute's Honorary Fellowship from Mr John Maguire, Chairman of HKSI Institute, at the dinner.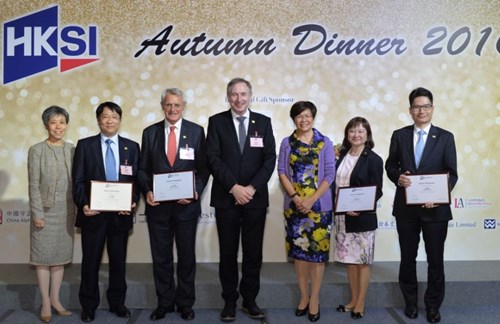 A group photo with the newly inducted HKSI Institute Honorary Fellow and Senior Fellows, and senior members of the Institute. (From left to right) Miss Ruth Kung; Mr Louis Mak; Mr Stuart Leckie; Mr John Maguire; Professor Alexa Lam; Ms Yvonne Hsin and Mr Joseph Chan.
---
About the Hong Kong Securities and Investment Institute (HKSI Institute)
The Hong Kong Securities and Investment Institute is a professional membership organisation established in 1997 by leaders in the securities and investment industry with the support of the Securities and Futures Commission.  The HKSI Institute champions professional standards of excellence in Hong Kong's financial services industry and contributes to Hong Kong's role as a leading international financial centre.  We offer a comprehensive programme of high quality professional training, events and internationally recognised examinations, and a vibrant membership community to empower individuals to achieve their professional goals.
Communication