Individual
Getting To Know Our Senior Fellow, Dr Kent Lai
Published on 6 January 2021

Dr Kent Lai was honoured as HKSI Institute Senior Fellow in October 2020 for his contributions to our professional community. He is a founding member of HKSI Institute, and has served on various committees over the years, including the Editorial Committee, E-Committee, Membership Committee, and Individual Membership Outreach Committee. He was also involved in the HKSI Institute research project – Hong Kong's Readiness for the Mainland Financial Markets (2006). He has referred many students to join our professional community and won the 2015 Member Ambassador Award.
Dr Lai is the Managing Director of the Master of Science in International Banking and Finance (MIBF) Programme, which he co-founded at Lingnan University. He is also the Founding Associate Director of the University's Division of Graduate Studies (now School of Graduate Studies).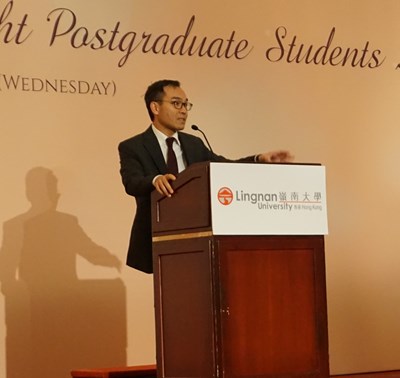 Q: What is the thing that you are most passionate about at work? What motivates you?
A: Every year I get excited seeing new students because that means opportunities to inspire and transform lives.
Many of my former students thrive in the finance industry, attaining esteemed positions such as chief executive officer of securities and investment company, manager of international mutual fund, managing director of private equity firm in charge of billion-dollar investment projects, director of listed company and, of course, earning much more than I do. Obviously money and fame cannot be a teacher's goal. 
The biggest reward for me, as a teacher, is to see students get inspired and realise their potentials. For example, a recent graduate thanked us for making his dream come true. Although he was from a top university in Guangdong, his major was engineering which he is not keen on. He studied very hard in our programme and subsequently landed a job in an investment bank. That is his dream and I am very pleased to play a role in his career pursuit. 
Another memorable experience was about a former student who graduated many years ago. Last year he suddenly called and shared with me his new book on option investment and requested me to write the preface. I read his book and gladly found out that he was inspired by my derivative course and has put the theories into practice. His book is not about using options for quick speculative gain, but a combination of practical option investment strategies with proper attitude and his reflection of life after going through drastic ups and downs.
Q: What was the biggest challenge that you have had to overcome over the course of your career?
A: We are all experiencing it: the recent pandemic is undoubtedly one of the biggest challenges of our lifetime! 
When the pandemic first hit us around Chinese New Year, we immediately switched to online interactive mode for our classes. While some programmes chose to extend the Chinese New Year holidays or resorted to pre-recorded lectures in the hope that the virus would subside quickly in a few weeks, we took a proactive approach to prepare for the worst from the beginning. As a result, we were a few weeks ahead of most of the other programmes in providing comprehensive online support to our students. 
To ensure the integrity of our final examinations and uphold our standards, we  insisted to give on-site examinations while many other programmes changed their final examinations to online mode or take-home assessments. We got help from universities in Shenzhen, Switzerland and Nigeria to administer our final examinations in their cities simultaneously as the examinations held in Hong Kong, so that our non-local students could take the final examinations there.    
In going the extra mile, we had to overcome many hurdles with added costs. Nevertheless, it was a worthwhile move because the impact of the pandemic on our students' learning could be minimised. The graduates appreciated our efforts and highly rated our measures in response to the pandemic in the graduate survey. They also proudly asserted that the integrity of their grades is not compromised as they had gone through the same on-site final examinations as other cohorts did.
Q: Kindly share with us your experience at/ with the HKSI Institute.
A: As a founding member of the HKSI Institute, I started to serve as an examiner for the Financial Market Principal Programme and the Foundation Programme from 1999, and later for the Diploma in Financial Markets Programme.
My colleague and I were honoured to be commissioned to conduct the project "A Research on Corporate Hong Kong's Readiness for the Mainland Financial Markets" in 2006. It was a pioneer study that gauged the readiness of Hong Kong firms in the brokerage, fund management and insurance sectors to penetrate the Mainland market, which also provided practical recommendations to stakeholders to increase Hong Kong's competitive edge. We were grateful for the opportunity to apply academic research skills towards contributing to the Institute and the finance industry at large. 
As an academic, I also see my role in the Institute as a bridge between practitioners in the industry and the students looking to get into the industry. I enjoy sharing my views with the Institute from the educator's and the students' perspective, at the same time, I appreciate having HKSI Institute Board Directors and representatives to meet and speak with my students and provide them a glimpse into our professional community. Through the Institute's Student Membership, the students could enjoy all the wonderful services and networking opportunities on offer. I am glad that many of my students not only joined as Student Members, but also progressed to become full members and serve on the Young Professionals Club (YPC) Council.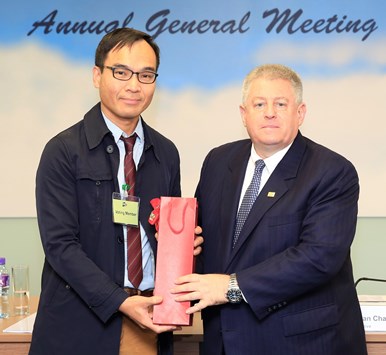 Membership