Others
A Dialogue with Mr Andrew Weir, HKEX Listing Committee Chairman
Overview
2018 is an exciting year for HKEX. With significant amendments to the Main Board and GEM listing rules, the discussions of the listing committee are likely to be most interesting. We are fortunate to have Mr Andrew Weir, Chairman of HKEX's listing committee to dialogue with us on various topics.
Do not miss this opportunity to hear Mr Weir's views on the development of the Hong Kong market and a chance to pose your questions to him.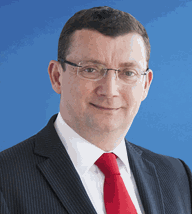 Speaker/Course Instructor
Andrew WEIR
Andrew is the Regional Senior Partner of KPMG's Hong Kong office. He has over 25 years' experience servicing listed companies, public bodies, investment funds and MNCs in Hong Kong, Asia and internationally. He has considerable experience working with a number of major audit committees and boards in Hong Kong and internationally. He has a keen interest in corporate governance and leads the quarterly KPMG Independent Non-Executive Directors Forum.

Andrew was appointed by the HKSAR Government as a council member of the Hong Kong Trade Development Council (HKTDC), sits on the Belt and Road Committee and chairs the International Working Group in Hong Kong and inaugural Global Belt and Road Forum. He is also a member of the Financial Services Development Council (FSDC) and FSDC Policy Research Committee. Andrew chairs the Listing Committee of the Hong Kong Stock Exchange and the advisory panels of the Securities Institute, Hong Kong Investor Relations Association and Institute of Chartered Accountants in England and Wales (ICAEW).

Andrew has had a number of global and regional roles with KPMG. He is the Global Chairman of Real Estate and Construction, and ASPAC Chairman of Infrastructure, Government and Healthcare, which also includes the real estate, hospitality and transport sectors.

Andrew is also a representative of the global leadership team of KPMG's Belt & Road Centre of Excellence. In this capacity, Andrew is leading KPMG's efforts in establishing greater linkages between Belt & Road Governments and interested Chinese and International private sector investment partners.

Andrew was made an MBE in the Queen's Birthday Honours List 2017 for his contribution to trade and investment links between Hong Kong and the UK.
Details
Date & Time
Wednesday, 5 Dec 2018 (12:20PM - 1:20PM)
Venue
HKSI Institute Training Centre
Tags
New, Closed to Media, Seminar, Full
Hours
SFC:1.00, PWMA:1.00