HKSI Institute Admits Mr Ashley Alder as Honorary Fellow
Hong Kong, 28 November 2022: The Hong Kong Securities and Investment Institute (HKSI Institute) conferred its prestigious Honorary Fellowship to Mr Ashley Alder, Chief Executive Officer of the Securities and Futures Commission (SFC), in recognition of his visionary leadership and remarkable reforms to uphold the quality and integrity of Hong Kong's financial markets, as well as his distinguished contributions and support to the HKSI Institute.
"Ashley has been a tremendous supporter of the HKSI Institute, even before taking the helm of the SFC in 2011. Not only has he been actively involved in our professional development work, Ashley also provided his vote of confidence and support for us in developing the Advanced Learning Platform – a one-stop service and personalised online portal for our members and industry practitioners.  His tenacity and contributions to the development of an effective regulatory framework in Hong Kong, as well as to the expansion of mutual access and connectivity with financial markets in the Mainland and the world, are well recognised, and we are privileged to have him as our Honorary Fellow," said Mr Colin Shaftesley, Chairman of the HKSI Institute.
"My involvement with the HKSI Institute's work started in the early 2000s, and I am pleased to be presented with the Honorary Fellowship.  I have always enjoyed working with industry stakeholders to develop Hong Kong's financial markets, and the Institute has played a key role in these efforts since its inception.  I am confident that the Institute will grow from strength to strength in the years ahead," Mr Ashley Alder said.  Mr Alder will be leaving the SFC to take up a new appointment in the United Kingdom as Chair of the Financial Conduct Authority (FCA) early next year.
Mr Alder was Chairman of the Board of the International Organization of Securities Commissions (IOSCO) from May 2016 to October 2022 and was previously the Head of Asia at international law firm Herbert Smith Freehills LLP.  Mr Alder is a member of the Financial Leaders Forum, a Council Member of the Treasury Markets Association and Vice President of The Hong Kong Institute of Bankers.
For more information of the HKSI Institute, please visit www.hksi.org.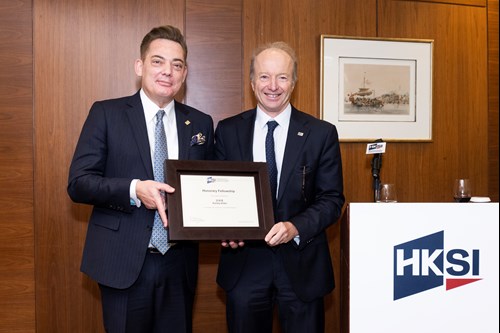 Mr Ashley Alder (right) receiving the Honorary Fellowship Certificate from Mr Colin Shaftesley (left)
_______________________________________________________________________________________________________________________________________________________
About the Hong Kong Securities and Investment Institute (HKSI Institute)
The Hong Kong Securities and Investment Institute is a professional membership organisation established in 1997 by leaders in the securities and investment industry with the support of the Securities and Futures Commission. The HKSI Institute champions professional standards of excellence in Hong Kong's financial services industry and contributes to Hong Kong's role as a leading international financial centre.  We offer a comprehensive programme of high-quality professional training, events and internationally recognised examinations, and a vibrant membership community to empower individuals to achieve their professional goals.
Communication