Hong Kong, 15 September: The Hong Kong Securities and Investment Institute (HKSI Institute) conferred its distinguished Honorary Fellowship to Mr Charles Li, in recognition of his sterling contributions and distinguished service in developing the financial services industry in Hong Kong and to the HKSI Institute.  Eight HKSI Institute Members were also inducted as Senior Fellows for their active involvement and contributions to the professional community.
"The Honorary Fellowship recognises Charles' remarkable achievements in shaping the financial landscape in Hong Kong.  His passion and vigour, astute views of the market, as well as pioneering initiatives are inspiring.  We appreciate Charles' generous support to the HKSI Institute over the past decade, and we look forward to his continued counsel and engagement with us in advancing the industry," said Ms Katherine Ng, Chairman of the HKSI Institute.  
Mr Charles Li retired from Hong Kong Exchanges and Clearing Limited (HKEX) at the end of last year after serving as Chief Executive for eleven years.  During his time with HKEX, he orchestrated some of the most significant strategic initiatives in HKEX's history, including the 2012 acquisition of the London Metal Exchange and the launch of OTC Clear in 2013.  Mr Li helped cement Hong Kong's role as a conduit for international investors to invest in Mainland China's capital markets with the launch of the Stock Connect trading link between the HKEX and the Shanghai Stock Exchange in 2014, which was then followed by a similar link with the Shenzhen Stock Exchange in 2016, as well as a bond market equivalent in 2017.  In 2018, Mr Li led the introduction of the most significant listing reforms in 25 years, ushering a new wave of new economy listings to HKEX.
"I have always enjoyed the opportunities to share my views and experience at the various HKSI Institute events over the years, exploring market innovations together with this professional community.  I feel truly honoured to have been conferred the Honorary Fellowship, and look forward to supporting the HKSI Institute's work further, in particular in contributing to Hong Kong's role as a leading international financial centre and grooming the next generation of talents for the industry," Mr Charles Li said.
At the dinner, eight esteemed members of the HKSI Institute were inducted as Senior Fellows in recognition of their exceptional contributions to the HKSI Institute, notably for their work in advocating continuous professional development and in expanding the financial services community.  They are:
Senior Fellows 2021
Mr David Chau, Consultant, Ledo Consulting Limited
Ms Lau Ka-shi, Managing Director and Chief Executive Officer, BCT Group
Mr Bonn Liu, Partner and Head of Financial Services, KPMG
Ms Miranda Tang, Director of Private Equity Programme, Asia Pacific Institute for Strategy
Mr Wang Zhongze, Member of Executive Committee and Managing Director, BOC International Holdings Limited
Senior Fellows 2020
Mr Oliver Goh, Head of Client Service for Securities Services, Citibank Hong Kong
Dr Kent Lai, Managing Director, MSc in International Banking (MIBF) Programme, Lingnan University
Mr Barry Tong, Advisory Partner, Grant Thornton Hong Kong Limited
"We are grateful to our dedicated Honorary and Senior Fellows, who go above and beyond in support of the Institute's work to reinforce, raise and promote professional standards of excellence.  Their spirited and invaluable contributions are what propel the sustainable development of the financial services sector, and it is only fitting to recognise their accomplishments," Ms Ng commended.
For more information of the HKSI Institute, please visit www.hksi.org.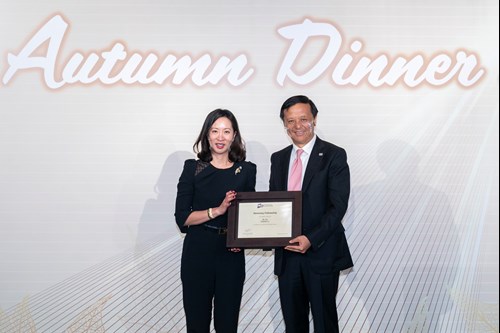 Mr Charles Li receiving the Honorary Fellowship Certificate from Ms Katherine Ng
Group photo with the newly inducted HKSI Institute Honorary Fellow and Senior Fellows 2021 
From left to right: Mr Charles Li, Miss Ruth Kung (Chief Executive, HKSI Institute), Mr Wang Zhongze, Ms Miranda Tang, Mr Bonn Liu, Ms Lau Ka-shi, Ms Katherine Ng and Mr David Chau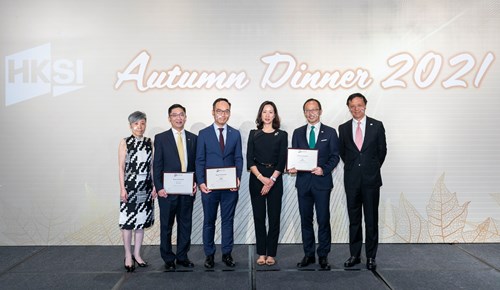 Group photo with Senior Fellows 2020 
From left to right: Miss Ruth Kung (Chief Executive, HKSI Institute), Mr Oliver Goh, Dr Kent Lai, Ms Katherine Ng, Mr Barry Tong and Mr Charles Li
About the Hong Kong Securities and Investment Institute (HKSI Institute)
The Hong Kong Securities and Investment Institute is a professional membership organisation established in 1997 by leaders in the securities and investment industry with the support of the Securities and Futures Commission. The HKSI Institute champions professional standards of excellence in Hong Kong's financial services industry and contributes to Hong Kong's role as a leading international financial centre.  We offer a comprehensive programme of high quality professional training, events and internationally recognised examinations, and a vibrant membership community to empower individuals to achieve their professional goals.
Communication