Fintech Series
[Webinar] Virtual Assets: Hong Kong's Evolving Virtual Assets Regulatory Landscape and Impact on Financial Institutions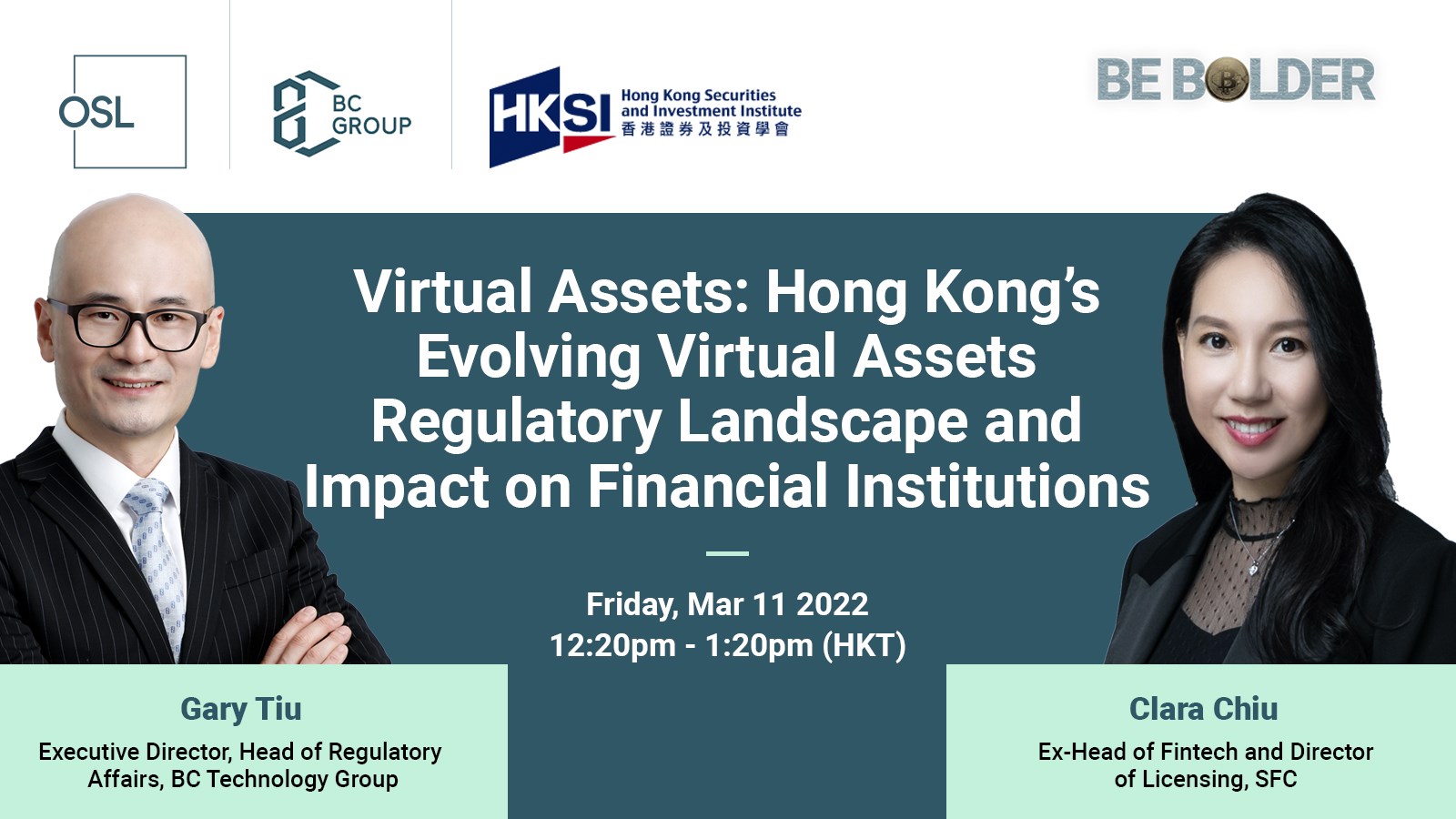 Overview
The Hong Kong regulatory position for virtual assets has been evolving continuously over the last 4 years alongside a wide range of international regulatory initiatives. This webinar focuses on the latest regulatory and market changes, and aims to shed light on the practical implications of the HKMA/SFC joint initiatives on the local and regional virtual asset ecosystem.
Objective
The course will help the participants to:
- Gain an understanding of the virtual assets regulatory environments of Hong Kong and other major jurisdictions
- Understand the positions taken by Hong Kong regulators on the regulation of virtual asset-related activities
- Understand the implications and impact of the latest regulatory guidance, in particular, the joint circular by the Securities and Futures Commission ("SFC") and the Hong Kong Monetary Authority ("HKMA") published on 28 Jan 2022 (the "Joint Circular")
- Gain practical tips and insights on complying with the latest regulations for virtual asset-activities in HK
Content
1. Overview of Hong Kong's Regulatory Framework for Virtual Assets against global regulatory landscape
2. How do virtual asset-related activities fit within the existing regulated institutional landscape
3. Key takeaways on the Joint Circular covering the distribution of VA-related products; provision of VA-dealing services; and provision of VA-advisory services;
4. Implications on financial institutions and their clients getting virtual asset exposure for the first time
5. Insights and practical tips for embracing and complying with the regulatory changes
Who should attend
This course is targeted at market players in the virtual asset and the traditional financial industry interested in the virtual asset regulatory landscape and the accompanying new business opportunities and compliance obligations.
Speaker/Course Instructor
Clara CHIU
Clara Chiu is the founder and CEO of QReg Advisory. Prior to setting up her consulting firm, she worked at the Hong Kong Securities and Futures Commission ("SFC") till 2021 and was the former Head of Fintech Unit and Director of Licensing of the SFC.

Clara was the main initiator and architect of the virtual asset regulatory framework in Hong Kong. She formulated and wrote the virtual asset regulatory requirements and other SFC Fintech policies. She was also a key reviewer and decision maker in virtual asset applications. Leading her team at the SFC, she approved the first licence to a virtual asset trading platform, virtual asset fund manager and automated wealth management trading platform in Hong Kong.

In addition to supervising the SFC licensing and approval process, Clara also worked at the SFC Supervision Department and led teams to conduct on-site inspections. She also contributed to policy and regulatory development and wrote a few important chapters of the Code of Conduct for Persons Licensed by or Registered with the SFC.

Prior to joining the SFC, Clara worked at international law firms advising clients on regulatory and commercial litigation including defending clients in SFC investigations and disciplinary cases. Clara is a Hong Kong qualified lawyer and serves as a member of the HKSI Corporate Membership Committee.


Gary TIU
Gary is currently the Head of Regulatory Affairs, Executive Director of BC Group. He has more than 20 years of experience as a corporate legal counsel, specialising in regulatory affairs and financial products.

Prior to joining BC Group, Gary served as General Counsel for Yunfeng Financial Group and Asia Head of Legal and Compliance for Cantor Fitzgerald and BGC Partners.

Earlier in his career, Gary specialised in structured derivatives, private equity and managed investment products at Macquarie Group and CITIC Capital.

Gary also currently serves as General Counsel for Reorient Group.

He holds a Bachelor of Laws and a Bachelor of Arts from the University of New South Wales.
Details
Date & Time
Friday, 11 Mar 2022 (12:20PM - 1:20PM)
Hours
SFC:1.00, PWMA:1.00