Regional Market Update Series
[Webinar] GreenTech and Sustainable Finance in Hong Kong and the Greater Bay Area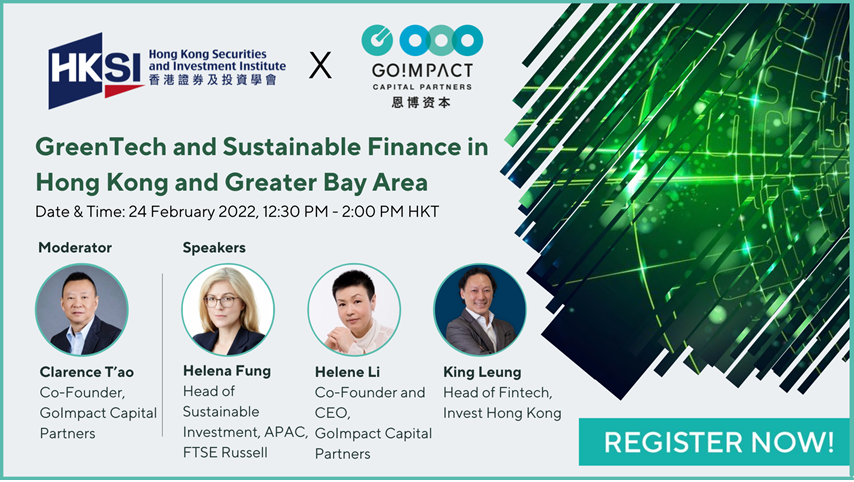 Overview
Magnified by the increased frequency of climate catastrophes and clear alarms from the Intergovernmental Panel on Climate Change or more recently the World Economic Forum, sustainable investments are at an all-time high. Triple digits growth is seen in many parts of the world with opportunities but also massive transition risks exist for established industry players.

In this webinar, 3 top industry players from different segments will discuss their perspective and trends on what this means for the Greater Bay Area investment momentum in green technologies.
Objective
At the end of the webinar, participants will:
- Know the latest trends and how companies make use of Green Tech to drive Sustainability in Hong Kong and the Greater Bay area; and
- Understand how companies are transforming themselves to achieve greener process in their operations, and the business opportunities arising from the use of Green Tech to drive ESG.
Content
GreenTech and Sustainable Finance trends globally, in the Greater Bay area and Hong Kong.

1. The latest trends in Green Tech and Sustainable Finance for listed companies.
2. How regulators are playing a role in driving heightened requirements on Sustainability by listed companies?
3. What are the common trends when deploying Green Tech to drive ESG?
4. The Investment flows into ESG related projects, how much/what are they? What trends do we see?
Who should attend
- Front-line banking/finance professionals/asset managers whose clients are at the forefront in driving Sustainability for their companies.
- Industry professionals, lawyers, regulators, licensed holders and intermediaries who support or engage in sustainable transformation.
Speaker/Course Instructor
King LEUNG
As the Head of Fintech at InvestHK, the department of the Hong Kong SAR Government responsible for attracting Foreign Direct Investment, King's mission is to enrich the fintech ecosystem and contribute to the innovation of the financial services sector in Hong Kong.

Prior to joining the government, King had a diverse private sector background as a serial tech entrepreneur, angel investor, and fintech lecturer in Asia where his first data-related start-up was established through seed investment from Credit Suisse.
Helena FUNG
As Head of Sustainable Investment, Asia Pacific, Helena is responsible for FTSE Russell's Sustainable Investment indexes, data and analytics solutions across the Asia Pacific region.

Helena relocated to Hong Kong in 2014 from London - a key hub for ESG investments. Helena's experience prior to joining FTSE Russell included ESG integration, equity analysis and advising on philanthropy for family office, asset management and institutional clients.
Helene LI
Co-Founder & CEO, GoImpact Capital Partners A seasoned management consultant and finance industry professional, Helene has held various senior management positions in Strategic Planning, Marketing and Branding throughout her career which includes tenure at global consulting giants Boston Consulting Group and Willis Towers Watson.

Prior to founding GoImpact platform developed to accelerate the adoption of Sustainable Finance, Helene was Managing Director and Head of Strategic Planning, Brand and Communications Asia Pacific for BNP Paribas Wealth Management, she also held similar roles in different investment banks, and is a known Influencer and Key Opinion Leader in Fintech and Digital Transformation.
Details
Date & Time
Thursday, 24 Feb 2022 (12:30PM - 2:00PM)
Hours
SFC:1.50, PWMA:1.50