In-town Guest Series
21st Century Strategy - Protection and Enhancement of Competitive Advantage
Overview
Companies' competitive advantage derives from intellectual capital – particularly the proprietary expertise, commercial secrets and other intellect properties they possess.
In an age where businesses' values increasingly depend on intellectual capital and intangible assets, understanding how such assets are successfully commercialised, deployed and protected is more important than ever.
The speaker, Judge Randall R. Rader is a Board Member of the International IP Commercialization Council.
Programme:
12:00 pm Registration & light lunch
12:30 pm – 1:30 pm Presentation and Q&A
Who should attend
Members' only event (By invitation only)
For enquiries, please email [email protected]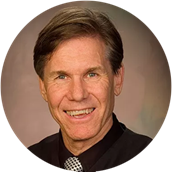 Speaker/Course Instructor
Randall R. RADER
Judge Randall R. Rader (Chief Judge United States Court of Appeals for the Federal Circuit (ret.)

For over 25 years, Judge Rader has been a thought leader in the field of intellectual property law and jurisprudence. His work as Chief Judge, his publications and his work teaching patent law globally to students, judges and government officials has left an indelible mark on the field of IP law and the protection of IP rights throughout the world. Judge Rader was appointed to the United States Court of Appeals for the Federal Circuit by President George H. W. Bush in 1990 and assumed the duties of Chief Judge on June 1, 2010.

Since leaving the bench in 2014, Judge Rader has presided over a major arbitration; conducted mediations to settle ongoing litigation; joined law faculty at Tsinghua University; conducted full-credit courses at leading law schools in Washington, D.C., Seattle, Santa Clara, Bangkok, Seoul, Tokyo, Munich; consulted with major corporations and law firms on IP policy and litigation; and advised foreign governments on international IP standards.

He is a board member of International IP Commercialization Council and continues to advocate improvements in innovation policy through speaking engagements worldwide.
Details
Date & Time
Friday, 11 Jan 2019 (12:00PM - 1:30PM)
Venue
HKSI Institute Training Centre
Tags
Members Only, New, By Invitation Only, Full
Hours
SFC:0.50, PWMA:0.50