Listed Enterprises of the Year 2022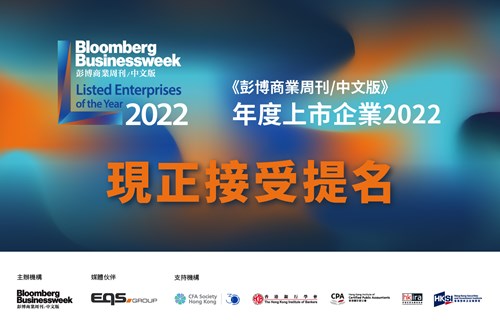 Now Open for Nomination 
Bloomberg Businessweek/Chinese Edition is pleased to announce that The Listed Enterprises of the Year 2022 is now open for nomination until 31 Aug 2022. To encourage listed enterprises with excellent performance and recognize their contribution to Hong Kong's economy, Bloomberg Businessweek/Chinese Edition is proud to present the seventh "Listed Enterprises of the Year".


Entries will first be vetted by Bloomberg data based on business/financial performance, corporate governance, investor relations, development strategy, corporate social responsibility, sustainability, innovation and risk management. Shortlisted companies will then be assessed by a panel of judges formed by government officials, professionals, and academics. Highest-scoring companies will be named "Listed Enterprises of the Year", and "Outstanding Performance" will be given to companies which excel in the above categories.


"Listed Enterprises of the Year" is the first listed enterprises award applying Bloomberg Terminal data in the judging process in Hong Kong. Awardees, therefore, are widely recognized among professionals and investors in Hong Kong.


Event Timeline
| | |
| --- | --- |
| Application Deadline: | 31 Aug 2022 |
| Judging Period: | Oct 2022 |
| Results Announcement: | Nov - Dec 2022 |
About Bloomberg Businessweek/Chinese Edition
The Chinese edition of Bloomberg Businessweek was first launched in 2011 in simplified Chinese version in mainland China, then in mid-2013 in traditional Chinese version in Hong Kong and Taiwan. The bi-weekly is built on the agreement between Bloomberg LP in New York and Hong Kong-listed Meta Media Holdings Limited (formerly known as Modern Media Holdings Limited). The two Chinese editions have a total audited circulation of more than 400,000 copies per issue across the straits. The mobile APP of traditional Chinese version has around 1,360,000 accumulated downloads.


Event Website: Click Here


Enquiries:
Ms. Sherry Chan, [email protected] 
Ms. Kayli Pang, [email protected]
Communication