FSDC Internship Program Webinar – My Career in Family Office - A Guide and an Admission Ticket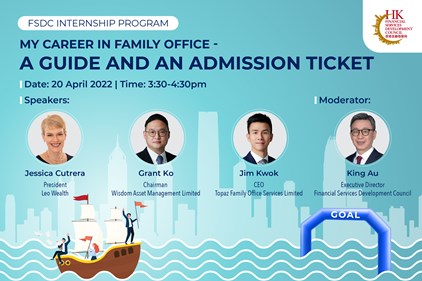 The Greater Bay Area (GBA) is one of the wealthiest regions in Mainland China. It boasts a GDP of nearly HKD13 trillion. Hong Kong's inherent advantage in its deep pool of financial and professional service talents in investment, wealth management, legal and tax advisory would become even more prominent, as its integration within the GBA continues. The rapid accumulation of wealth in the Asian region and within GBA has supercharged the Family Office industry. But what is a Family Office really? What are different careers in the ecosystem of Family Offices? How should a young professional be planning for a career in this space?
Date: 20 April 2022
Time: 3:30pm - 4:30pm 
Platform: Via Zoom
Speakers:
Ms Jessica Cutrera
President, Leo Wealth
Mr Grant Ko
Chairman, Wisdom Asset Management Limited
Mr Jim Kwok
CEO, Topaz Family Office Services Limited
Moderator:
Dr King Au,
Executive Director, Financial Services Development Council  
Language: English
Registration: Please click here. (The unique Zoom link will be sent to registrants upon successful registration.)
HKSI Institute members are welcome to join for free!
For enquiries, please contact [email protected].
Communication