HKSFA Best Research Report Competition 2019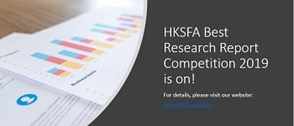 The Hong Kong Society of Financial Analysts (HKSFA) is pleased to announce that HKSFA Best Research Report Competition 2019 is set to commence.  Stepping into the sixth year, the competition will continue its mission to raise awareness of written research, elevate professional standards among analysts and improve Hong Kong's standing as a global financial centre.
HKSFA aims to establish the HKSFA Best Research Report Competition as "The Oscars" of the field, showcasing the highest standard of excellence in the research report writing. The Society therefore encourages its members and other supporting units to refer to the winner list of this competition when casting their votes for other industry competitions
As the supporting organisation, HKSI Institute cordially invite you to enroll into or refer suitable candidate for participating the HKSFA Best Research Report Competition 2019, This competition aims to recognise excellence in published investment research and promote awareness of fundamental written research among the public.
Nomination Period Starts: 27 Jun 2019
Deadline for Nomination and Report Submission: 27 Aug 2019
First Round Grading: 9 Sep – 30 Sep 2019
Final Round Grading: 14 Oct – 28 Oct 2019
Award Ceremony: 22 Nov 2019
********
Top ten winners of HKSFA Best Research Report Competition (BRRC) 2019 have been shortlisted!
Stepping into its sixth year, BRRC continues its mission of  honouring outstanding research analysts and research houses. Final Round Grading is now in process and Top Three Winners of both categories and the winner of the Best Research House Award will be announced at HKSFA Awards Night on 22 Nov 2019, please stay tuned with our announcement at BRRC website! . 
 Winner List for Single Company Report category (In Alphabetical Order of Last Name)
| | |
| --- | --- |
| Name | Company |
| Mr. Kelvin Chu | UBS AG |
| Ms. Susanna Chui | DBS Bank (HONG KONG) Limited |
| Ms. Alison Fok | DBS Bank (HONG KONG) Limited |
| Ms. Ho Pei Hwa | DBS Bank (HONG KONG) Limited |
| Mr. Jeffrey Kiang | CLSA Limited |
| Mr. Jonas Kan, CFA | Daiwa Capital Markets |
| Mr. Johnny Lau, CFA | CLSA Limited |
| Mr. Raymond Liu, CFA | HSBC Global Research |
| Mr. Walter Woo | CMB International |
| Mr. James Wang     | UBS AG |
Winner List for Sector Report category (In Alphabetical Order of Last Name)
Name

Company

Mr. Kelvin Chu

UBS AG

Ms. Susanna Chui

DBS Bank (HONG KONG) Limited

Mr. Andrew Chung, CFA

Daiwa Capital Markets

Mr. Carlton Lai, CFA

Daiwa Capital Markets

Mr. John Lam

UBS AG

Ms. Elinor Leung, CFA

CLSA Limited

Mr. Terrance Liu, CFA

CLSA Limited

Ms. Manyi Lu         

DBS Bank (HONG KONG) Limited

Mr. Walter Woo

CMB International  

Mr. Jialin Zhang

(Team: Mr. Matthew Yan

& Ms. Eva Zhao)

ICBC International

Communication