Outreach
Outreach
Producing high-calibre, industry-focused programmes, as well as getting connected to policy makers and thought leaders are our best service to Members and practitioners. Through the various Outreach initiatives, students, new entrants and young talents get to equip themselves with industry know-how and better prepared for leadership roles.  
Young Professionals Club
The Young Professionals Club (YPC) was formed in 2016. All members aged 40 or below are within the YPC and no separate registration is required. YPC members will receive programme invitation via email.
Young members will learn how to develop their careers, expand professional networks and sharpen leadership skills through its activities. It is also a platform for them to develop peer support, exchange ideas and share common interests. A series of activities including workshops, visits and drinks events are in the pipeline.
| | |
| --- | --- |
| Date | Event |
| September 2017 | |
| July 2017 | |
| February 2017 | |
| January 2017 | |
| November 2016 | CV and Interview Workshop |
| October 2016 | LinkedIn Talk |
| August 2016 | |
| March 2016 | YPC Drinks Event |
Scholarship Programme 2018
More than 600 university students have been provided an avenue to advance their career development for the financial industry since the programme was first introduced in 2004.
Scholarship Programme Awards Presentation Ceremony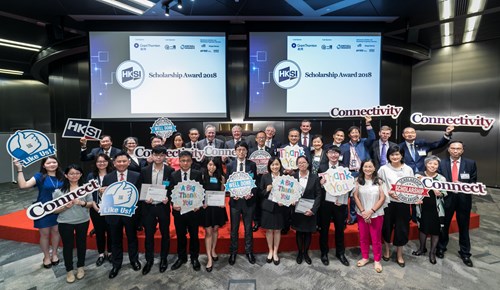 Scholarship Programme Awards Presentation Ceremony held at the HKEX Connect Hall.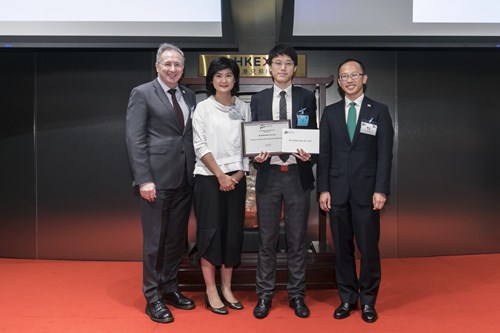 Champion Mr Jack Wong (2nd from right) accompanied by CUHK representative Ms Elaine Tam (2nd from left) to accept award from Mr Barry Tong (right) of Grant Thornton, Programme Chair and Lead Sponsor, and Mr John Maguire (left), Chairman of HKSI Institute.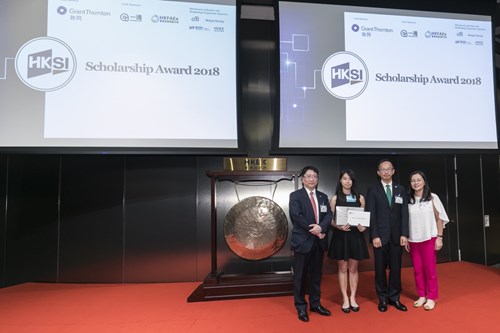 1st Runner-up Ms Athena Lo (2nd from left) accompanied by HKU representative Prof Anna Wong (right) to accept award from Mr Barry Tong, and Mr Louis Mak (left) of I-Access, Cash Sponsor.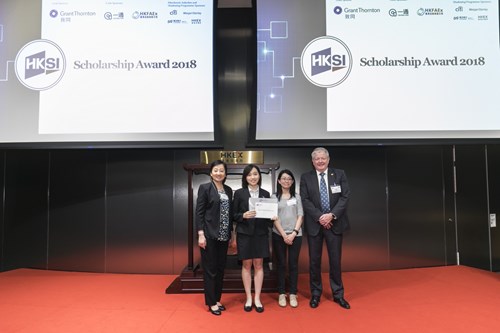 2nd Runner-up Ms Tiana Wong (2nd from left) accompanied by CityU representative Ms Tiffany Wong (2nd from right) to accept award from Mr Phil Tye (right), Panel Judge, and Ms Belinda Ngan (left) of SPD Bank, Shadowing Programme Sponsor.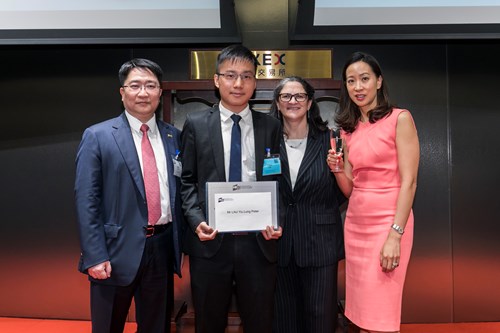 3rd Runner-up Mr Peter Lau (2nd from left) accompanied by HKUST representative Prof Veronique Lafon-Vinais (2nd from right) to accept award from Mr Louis Mak (left) and Ms Katherine Ng (right) of HKEX, Attachment Programme Sponsor.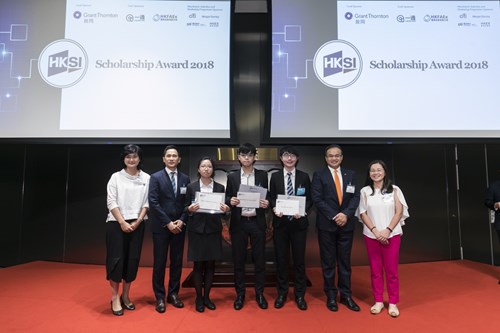 Finalists accompanied by university representatives to accept awards from Mr Wayne Fong (2nd from left) of Citibank, Induction Programme Sponsor and Mr Lewis Wan (2nd from right) of HKFAEx, Cash Sponsor.
(from left: Ms Elaine Tam, Mr Wayne Fong, Ms Carmen Yeung of OUHK, Mr Wilson Wong of LingnanU, Mr Eric Chiu of CUHK, Mr Lewis Wan, and Prof Anna Wong) 
List of Awardees
Champion: Mr WONG Man Hei, Jack (CUHK)
1st Runner-up: Miss LO Hei Lam, Athena (HKU)
2nd Runner-up: Miss WONG Tsz Ning, Tiana (CityU)
3rd Runner-up: Mr LAU Yiu Lung, Peter (HKUST)
Finalists:
Miss CHEUNG Man Yi Crystal (HKU)
Mr CHIU Ho Yin Eric (CUHK)
Miss HO Joyce Loksee  (HKU)
Miss TSANG Kar Man Carman (OUHK)
Mr WONG Yuk Yeung Wilson (LingnanU)
Miss YEUNG Ka Yi Carmen (OUHK)
Other Awardees:
Miss CAO Leyao Christine (HKUST)
Mr CHAN Chak On (EdUHK)
Miss CHAN Ka Ching Hazel (HKU)
Miss CHAN Man Sin (HKSYU)
Miss CHEN Yueqian (HKBU)
Miss CHEUNG Ka Man Kitty (LingnanU)
Mr CHEUNG Long Jin (HKU)
Miss CHEUNG Tsz Ching Kelly (HSMC)
Mr CHOW Ming Kin Mark (HKU)
Miss DEL MUNDO Gillian Sero (HKUST)
Mr FAN Jiun Fuh Gordon (HSMC)
Mr HO Hiu Yan Charlotte (HKUST)
Miss KO Yin Chloe (HSMC)
Mr KWAI Cheuk Yin Koos (OUHK)
Miss KWOK Lai Ying Kimmy (LingnanU)
Mr LAM Kai Fung Ray (CUHK)
Mr LAM Wing Kwan Neal (PolyU)
Mr LAW Chi Keung Johnny (PolyU)
Mr LEE Hei Kan Hailey (HSMC)
Mr LEUNG Ming Hin Benson (HKU)
Miss LEUNG Yu Ching Isabella (EdUHK)
Mr LIN Chenglong Jacky (HSMC)
Miss LUK Chui Ting Kelly (LingnanU)
Mr LUK Chun Hong Anson (CUHK)
Mr NG Chi Lun Jason (HSMC)
Mr NG Chun Wai Tom (HKU)
Mr NG Hok Yu (EdUHK)
Miss NG Yuet Wing Queenie (CityU)
Mr PANG Kit Ying Joanne (CityU)
Miss POON Tak In (HKSYU)
Miss SO Bo Ki Boky (HSMC)
Mr SZETO Kiu Lok Jason (CityU)
Mr TAO Sin Fan Limonene (OUHK)
Mr TO Chun Yin (HKBU)
Miss TSOI Ying Fai Ivy (HKSYU)
Mr WONG Hei Long Aaron (CityU)
Mr WONG Hin Tsung Keith (PolyU)
Mr WONG Hiu Fung Jason (PolyU)
Mr WONG Ho Kiu Michael (CityU)
Mr WONG Ka Lok Kayson (HSMC)
Mr WONG Keng Fong Morris (HKUST)
Mr WONG Kwok Kin (HKBU)
Sponsors

Participating Universities
City University of Hong Kong (CityU)
Hang Seng Management College (HSMC)
Hong Kong Baptist University (HKBU)
Hong Kong Shue Yan University (HKSYU)
Lingnan University (LingnanU)
The Chinese University of Hong Kong (CUHK)
The Education University of Hong Kong (EdUHK)
The Hong Kong Polytechnic University (PolyU)
The Hong Kong University of Science and Technology (HKUST)
The Open University of Hong Kong (OUHK)
The University of Hong Kong (HKU)
Disclaimer
The HKSI Institute reserves all rights to update and/or change the contents of the Scholarship Programme 2018 webpage from time to time and without notice. HKSI Institute has the rights to cancel any entries with incomplete information or illegal contents. Also, the HKSI Institute reserves the absolute right to amend, extend and/or discontinue the prizes or any part thereof without giving any reasons or prior notice.
The Chinese translation of Scholarship Programme 2018 is for reference only. In case of any discrepancy between the English version and the Chinese version, the English version shall prevail.
Mentoring Programme
The Mentoring Programme is based on a simple idea – wisdom shared enables transfer of knowledge and dissemination of good values. The Members' only programme connects the achieved veterans with the promising young members.
The 2018-19 cohort is now open for young members below the age of 35 to apply. Interested parties please fill in the application form and email it to member@hksi.org with your CV on or before 3 September 2018. If you are not yet a member, please apply using the Membership Application Form. We will match you with a suitable mentor according to your interests, specialties and experience.
Membership