Individual
JUIG @ HKSI Institute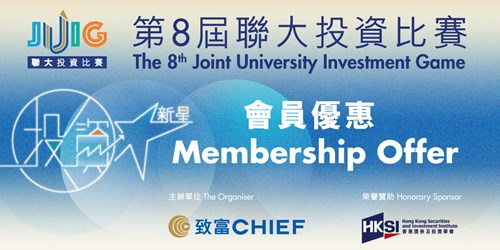 HKSI Institute is pleased to support the 8th Joint University Investment Game (JUIG) participants' career development through our membership, training and qualification programmes. Special offers are available exclusively for JUIG participants to join our vibrant community.
Members enjoy exclusive discounts for signature events and training programmes, as well as invitations to Members' Only events. As an additional benefit, Student Members can take advantage of a special 50% discount on the Licensing Examination for Securities and Futures Intermediaries (LE) Papers 1, 7, 8 and 12.
Eligibility and Special Offer
Student Membership
Full time students of associate degree, higher diploma, bachelor's degree programme, master programme, and PhD programme or equivalent, can enjoy a one-year complimentary membership.
Associate / Ordinary Membership
Participants not eligible for Student Membership as detailed in point (1) may apply for Associate / Ordinary Membership and enjoy waiver of the joining fee. They only need to pay the annual fee following the relevant membership class as per "Schedule 1: Individual Membership Requirements" of the Membership Rules. 
Terms and Conditions
Special offers are for JUIG participants who are applying for HKSI Institute Membership for the first time.
All applications will need to be supported by JUIG Email Verification AND JUIG Login Credentials. The two emails must be submitted together with the completed HKSI Institute membership application form.
Application deadline: 31 October 2023
Applicable fees and waivers
Special Offers/ Class

Student Membership

Associate Membership

Ordinary Membership

Joining Fee

N/A

HK$300 (waived)

HK$600 (waived)

Annual Fee

HK$300 (waived)

HK$600

HK$1,200

Total Payable Fee

HK$0

HK$900

HK$600 (saving $300)

HK$1,800

HK$1,200 (saving $600)
For membership application, please complete the eForm, selecting "Sponsorship (JUIG)" from the Source of information and uploading the required supporting documents.
The HKSI Institute reserves the right to amend the terms and conditions of the offers without prior notice.
The HKSI Institute's decision on membership admission and rejection is final, conclusive, and binding on all parties. 
Membership