Outreach
Outreach
Producing high-calibre, industry-focused programmes, as well as getting connected to policy makers and thought leaders are our best service to Members and practitioners. Through the various Outreach initiatives, students, new entrants and young talents get to equip themselves with industry know-how and better prepared for leadership roles.  
Young Professionals Club
The Young Professionals Club (YPC) was formed in 2016. All members aged 40 or below are within the YPC and no separate registration is required. YPC members will receive programme invitation via email.
Young members will learn how to develop their careers, expand professional networks and sharpen leadership skills through its activities. It is also a platform for them to develop peer support, exchange ideas and share common interests. A series of activities including workshops, visits and drinks events are in the pipeline.
| | |
| --- | --- |
| Date | Event |
| September 2017 | |
| July 2017 | |
| February 2017 | |
| January 2017 | |
| November 2016 | CV and Interview Workshop |
| October 2016 | LinkedIn Talk |
| August 2016 | |
| March 2016 | YPC Drinks Event |
Scholarship Programme 2018
More than 600 university students have been provided an avenue to advance their career development for the financial industry since the programme was first introduced in 2004.
Eligibility
Full-time undergraduate students of participating institutions who are Hong Kong permanent residents with the right to abode in Hong Kong and under the age of 26 years before 30 September 2018.
Awardees of previous years are not eligible to apply under "Nomination Route". They are welcome to participate via the "Application Route".
Overview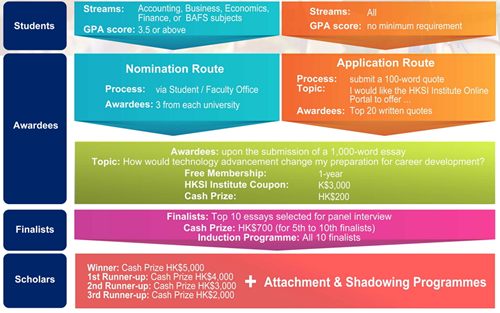 How to Apply?
Stage 1: Submission of 100-word quote
Interested full-time undergraduates must send their submissions to HKSI Institute via email (member@hksi.org) on or before 19 January 2018 (Friday).
List of Documents to be submitted:

word file of 100-word quote on "I would like the HKSI Institute Online Portal to offer…"
entry form
declaration and authorisation form
resume
copy of transcript
Stage 2: Submission of 1,000-word essay
The selected awardees will be notified by email on 31 January 2018 (Wednesday) and should response within 48 hours on their intention to proceed to next stage.
Submission of 1,000-word essay on "How would technology advancement change my preparation for career development?" must be sent to HKSI Institute via email (member@hksi.org) on or before 1 March 2018 (Thursday).
List of Documents to be submitted:

word file of 1,000-word essay
declaration and authorisation form
For enquiry on information of Application Route, please contact Ms Mandy Kwan on 3120 6204, Mr Terence Luk on 3120 6171, or email to member@hksi.org.
Marking Schemes
For 100-word quote:
Criteria
Max. Points (100)

Creativity:

Original ideas with foresight

30

Relevance:

Ideas should be related to the mission of the HKSI Institute

30

Feasibility:

Ideas given are practicable and sustainable

 30

Style:

Well written with good English

10
For 1,000-word quote:
Criteria
Max. Points (100)

Key Content:

Demonstration of a clear understanding of the topic and make relevant comments

 40

Theories and Data:

Demonstration of the use of relevant theories and/or data for analysis

20 

Writing

Demonstration of a balanced discussion

20 

Judges' Discretionary Points:

Other credits the awardee deserves that are not listed above

20 
Sponsors

Participating Universities
Caritas Institution of Higher Education (CIHE)
Chu Hai College of Higher Education (CHC)
City University of Hong Kong (CityU)
Hang Seng Management College (HSMC)
Hong Kong Baptist University (HKBU)
Hong Kong Shue Yan University (HKSYU)
Lingnan University (LingnanU)
Technological and Higher Education Institute of Hong Kong, Vocational Training Council (VTC - THEi)
The Chinese University of Hong Kong (CUHK)
The Education University of Hong Kong (EdUHK)
The Hong Kong Polytechnic University (PolyU)
The Hong Kong University of Science and Technology (HKUST)
The Open University of Hong Kong (OUHK)
The University of Hong Kong (HKU)
Important Dates
| | |
| --- | --- |
| Date | Item |
| 19 January 2018 | Deadline for submission of 100-word quote from Application Route |
| 31 January 2018 | Notification to top 20 quote writers of Application Route |
| 1 March 2018 | Deadline for submission of 1000-word essay from both Nomination Route and Application Route |
| Mid-March 2018 | Preparation workshop: Presentation Skill and Workplace Attire |
| Mid-April 2018 | Notification to shortlisted Finalists for Panel Interview |
| Late April 2018 | Panel Interview |
| Early May 2018 | Announcement of Scholarship Programme results via website and notification to be sent to Awardees and Student Offices |
| May-June 2018 | Induction and Shadowing Programme arrangement |
| Late June 2018 | Scholarship Programme Award Ceremony Cocktail |
Disclaimer
The HKSI Institute reserves all rights to update and/or change the contents of the Scholarship Programme 2018 webpage from time to time and without notice. HKSI Institute has the rights to cancel any entries with incomplete information or illegal contents. Also, the HKSI Institute reserves the absolute right to amend, extend and/or discontinue the prizes or any part thereof without giving any reasons or prior notice.
The Chinese translation of Scholarship Programme 2018 is for reference only. In case of any discrepancy between the English version and the Chinese version, the English version shall prevail.
Mentoring Programme
The Mentoring Programme is based on a simple idea – wisdom shared enables transfer of knowledge and dissemination of good values. The Members' only programme connects the achieved veterans with the promising young members.
Special awards are given out to Mentees each year, in recognition of their active participation and contributions towards the HKSI Institute. The awards aim to encourage personal growth and boost Mentees' confidence. Below are the evaluation criteria for the awards:
No.

Evaluation Criteria

Scale

1.

Mentor's Evaluation

10%

2.

Participation in Paid Events

30%

3.

Participation in Other Events, relating to

-       Mentoring Programme

-       YPC

-       Member Events

20%

4.

Participation in Monthly Drinks

10%

5.

Being a Member Ambassador

20%

6.

Special Contribution, such as

-       Being the Emcee for Events

-       Co-ordinator / Organiser of Events

-       Production of Marketing / Event Materials

10%
Top four Mentees of the year will be awarded. Mentee with the highest score will be awarded the Best Mentee Award, and the three other Mentees will be granted the Outstanding Mentee Award.
Past Best Mentees are also eligible for a Special Mention Award, if his/her score ranks within the top four.
Membership