Outreach
Outreach
Producing high-calibre, industry-focused programmes, as well as getting connected to policy makers and thought leaders are our best service to Members and practitioners. Through the various Outreach initiatives, students, new entrants and young talents get to equip themselves with industry know-how and better prepared for leadership roles.  
Young Professionals Club
The Young Professionals Club (YPC) was formed in 2016. All members aged 40 or below are within the YPC and no separate registration is required. YPC members will receive programme invitation via email.
Young members will learn how to develop their careers, expand professional networks and sharpen leadership skills through its activities. It is also a platform for them to develop peer support, exchange ideas and share common interests. A series of activities including workshops, visits and drinks events are in the pipeline.
| | |
| --- | --- |
| Date | Event |
| September 2017 | |
| July 2017 | |
| February 2017 | |
| January 2017 | |
| November 2016 | CV and Interview Workshop |
| October 2016 | LinkedIn Talk |
| August 2016 | |
| March 2016 | YPC Drinks Event |
Scholarship Programme
More than 600 university students have been provided an avenue to advance their career development for the financial industry since the programme was first introduced in 2004.
Judges and Sponsors
We would like to thank the following members and organisations for their support and valuable contribution to the HKSI Institute Scholarship programme.
Panel of Judges
| | |
| --- | --- |
| Name | Position |
| Mr Barry Tong (Chair) | Advisory Partner, Grant Thornton Hong Kong Limited |
| Mr Phil Tye | Director, HFL Advisors Limited |
| Mr John Maguire | Chairman, HKSI Institute |
| Ms Ruth Kung | Chief Executive, HKSI Institute |
Sponsors

Lists of Scholars and Finalists
A total of 39 awardees from "Nomination Route" and "Application Route" competed for the "HKSI Institute Scholars" title, all awardees submitted a 1,000-word essay on "Which sector of the financial services industry that you will be interested to join? Please elaborate.".
Eight finalists were selected to join the panel interview. The results are: 
Scholar

Name

Shadowing Opportunity & Cash Prize

Winner

Mr NG Chi Wing, John (HKU)

Morgan Stanley

HK$5,000

1st Runner-up

Mr LI Sai Ming, Simon (HKU)

Grant Thornton

HK$4,000

2nd Runner-up

Ms WONG Hou Tung, Vincy (PolyU)

SPD Bank

HK$3,000

3rd Runner-up

Mr TAI Kai Chuen, Calvin (HKUST)

Yunfeng Financial 

HK$2,000

Finalist

Ms LAU Ka Wing, Kelly (HSMC)

HK$1,000

Finalist

Mr MAN Ka Po, Andrew (HKUST)

HK$1,000

Finalist

Mr NG Chiu Yu, Adam (HSMC)

HK$1,000

Finalist

Mr WANG Tsz Him, Ernest (CityU)

HK$1,000
Each awardee also received a 1-year complimentary Student Membership and HKSI Institute Coupon worth HK$3,000 for enrolment of examinations and activities.
Participating Universities
City University of Hong Kong (CityU)
Hang Seng Management College (HSMC)
Hong Kong Baptist University (HKBU)
Hong Kong Shue Yan University (HKSYU)
The Chinese University of Hong Kong (CUHK)
The Hong Kong Polytechnic University (PolyU)
The Hong Kong University of Science and Technology (HKUST)
The Open University of Hong Kong (OUHK)
The University of Hong Kong (HKU)
Mentoring Programme
The Mentoring Programme is based on a simple idea – wisdom shared enables transfer of knowledge and dissemination of good values. The Members' only programme connects the achieved veterans with the promising young members.
Event Highlights:
2017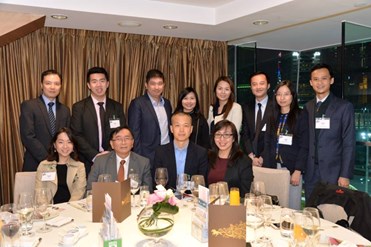 Horse Racing Evening (2017)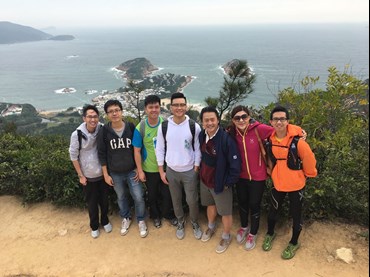 Mentor Christopher Lee and his mentees go hiking (2017)
2016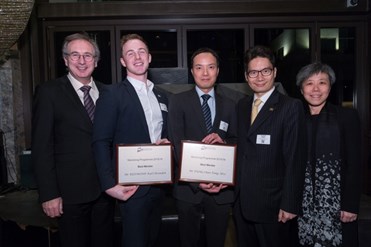 Best Mentees 2016 flanked by achieved members. From left: Mr John Maguire, Mr Karl Redmond, Mr Alex Fung, Mr Joseph Chan and Miss Ruth Kung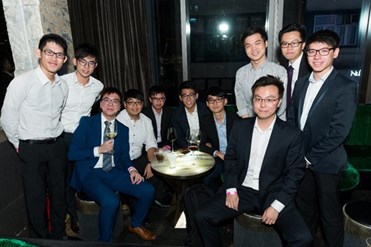 Mentees and young members at a get-together session (2016)
2015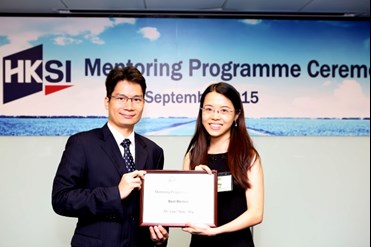 Best Mentee (2015) Miss Sky Luo with Mr Joseph Chan
2014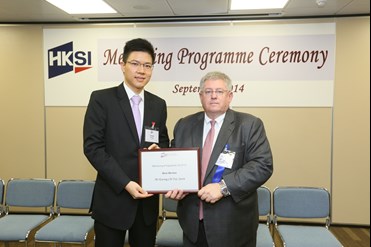 Best Mentee (2014) Mr Jason Kwong receives the award from Mr Craig Lindsay
Membership